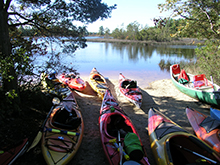 Many outdoor enthusiasts regard paddling a canoe or kayak as one of the best ways to experience the Pinelands up-close. A number of privately owned canoe/kayak rental agencies or "liveries," are located throughout the area, offering trips down such rivers as the Mullica, Batsto, Oswego, and the Wading. A trip down one of these Pinelands waterways can last from 1 to 6 hours, depending on the route you choose and the river conditions. Some liveries may arrange overnight trips.

Wharton State Forest (609-561-0024) features seven canoe campsites along the Mullica, Batsto and West Branch of the Wading Rivers. Most liveries are open through October and into November depending on the weather. When planning your journey down a Pinelands waterway, it is a good idea to contact a rental agency to find out about river conditions, prices, and the need for reservations. Be sure to ask your rental agent for tips to help make your trip as safe as possible.
Also remember that the Pinelands are a delicate ecosystem. As you enjoy the Pinelands, please be sure to treat the area with respect to help preserve the natural and scenic resources of the region.
The following canoe and kayak liveries are listed for the convenience of Pinelands visitors, and in no way does the Pinelands Commission endorse any of these. Other vendors may be available. The information below is subject to change and the Pinelands Commission does not guarantee its accuracy.
Al & Sam's Canoe and Boat Rentals
2626 West Weymouth Road
Newfield, NJ 08344
(856) 692-8440
Maurice River
Cedar Creek Campground Canoe and Kayak Rentals
1052 US Highway 9
Bayville, NJ 08721
732-269-1413
Cedar Creek, Double Trouble State Park
Clark's Canoe Rental
201 Hanover St.
Pemberton, NJ 08068
(609) 894-4448
Rancocas Creek
Forked River Outdoor Group (F.R.O.G.)
1800 Double Trouble Road
Beachwood, NJ 08722
(609)290-5928
info@forkedriveroutdoorgroup.com
Barnegat Bay, Batsto, Cedar Creek, Mullica, Wading, Oswego Rivers
Mick's Pine Barrens Canoe Rental
3107 Route 563 (Jenkins)
Chatsworth, NJ 08019
(609) 726-1380
In NJ/PA (800) 281-1380
Oswego, Wading Rivers, Oswego, Harrisville Lakes
The Paddle Shack
5012 Ocean Heights Avenue
Egg Harbor Township, NJ 08234
(609) 653-4386
Patcong Creek
Palace Outfitters
6924 Black Horse Pike
Mays Landing, NJ 08330-3951
(609) 625-8552
Great Egg Harbor River
Pinelands Adventures
1005 Atsion Road
Shamong, NJ 08088
(609) 268-0189
Batsto and Mullica Rivers
Wading Pines Camping Resort
85 Godfrey Bridge Road
Chatsworth, NJ 08019
888-726-1313
Wading River
Wells Mills County Park
905 Wells Mills Road
Waretown, NJ 08758
609-971-3085
Wells Mills Lake, Oyster Creek
Winding River Campground
6752 Weymouth Rd.
Mays Landing, NJ 08330
(609) 625-3191
Great Egg Harbor, Lake Lenape
(Revised, October 2019)