Do you go the extra mile to help your employees get to work?
Do you offer quality commuter benefits, such as transit information, traffic alerts, free or low cost bus passes, strong telecommuting programs, carpooling matching, vanpool subsidies or other services?
If you provide these opportunities (or
others such as rewarding employees who walk, bicycle or carpool to work), we encourage you to apply for the New Jersey Smart Workplaces program.
To qualify, an employer must meet the requirements that are shown on the application or in the New Jersey Smart Workplaces Nomination Application (pdf 337k).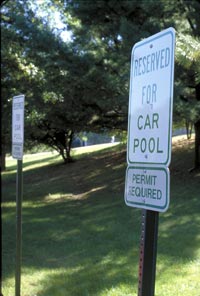 Reserved parking spaces
can be designated for carpools.