Overview
The construction on this project has been completed.
The New Jersey Department of Transportation (NJDOT) has begun a $40 million 5.9 mile rehabilitation of I-287 from the New Jersey Turnpike in Edison Township to Exit 5 at Stelton Road in South Plainfield Borough. The project is scheduled for completion in December 2009.
This heavily traveled section of I-287 through Middlesex County includes interchanges with Route 27, Route 1, and the New Jersey Turnpike. On an average day, 150,000 vehicles travel this stretch of I-287. The existing roadway and bridges are seriously deteriorated and need a complete rehabilitation.
NJDOT will stage new traffic patterns during construction. Motorists are advised to read the variable message signs for changes to traffic patterns and real time speed and travel times throughout the project.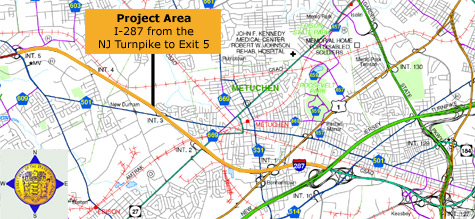 (click to enlarge)