Overview
The New Jersey Department of Transportation (NJDOT) began a major 10.3 mile rehabilitation of I-295 from Exit 14 (Repaupo Road) in Logan Township to Exit 24 (Route 45) in West Deptford in June 2007. The $77 million project is expected to end in summer 2009.
I-295 crosses the Delaware Memorial Bridge to the south, provides access to the New Jersey Turnpike and links Salem, Gloucester, Camden, Burlington and Mercer Counties with Philadelphia and Trenton. On an average day, 68,780 vehicles use I-295.
Drivers should note altered traffic patterns and are encouraged to consider other transportation options.
The major goals of this rehabilitation project are to:
Utilize innovative design and construction techniques to accelerate the overall project;
Rehabilitate the I-295 mainline via full-depth pavement replacement, concrete rubblization with asphalt overlay, or milling with asphalt overlay;
Improve substandard vertical clearances at the Swedesboro and Democrat Road overpasses;
Improve auxiliary lane lengths at specific exits; and
Rehabilitate of the concrete bridge decks that carry the I-295 mainline.
Additional benefits of this project include improved lifespan on this section of I-295 with a pavement that will have an extended 20-year minimum service life compared to rehabilitation by traditional methods. Improvements to the existing communication equipment along the roadway will inform NJDOT South Region of conditions on I-295 so it can transmit information more efficiently to drivers.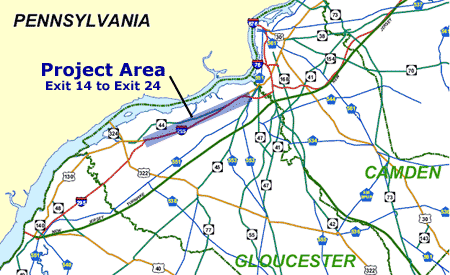 (click image to enlarge)