Overview


The construction on this project has been completed.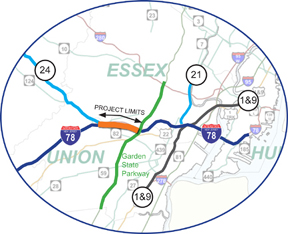 The New Jersey Department of Transportation (NJDOT) is doing a major $42 million reconstruction of 2.3 miles of I-78 from Route 24 to the Garden State Parkway in Union Township, Union County.
The express lanes were reconstructed from August 2006 to November 2006. The eastbound local lanes were reconstructed from March 2007 to October 2007. The westbound local lane reconstruction began in early March 2007 and all lanes were opened on Friday, October 26. There will be no more permanent lane closures, only temporary lane closures during off peak travel times will be required to complete the final work.
The existing roadway in this strategic corridor for New Jersey, Pennsylvania and New York travel is seriously deteriorated and in need of a complete rehabilitation. More than 145,000 trips are made daily on this interstate.

New traffic patterns will be necessary during construction. Motorists are advised to read the dynamic message signs for changes to traffic patterns and real time speed and travel times through the project.

Besides providing enhanced motorist assistance, NJDOT encourages drivers to consider using transportation alternatives such as carpools, park and rides and public transportation. NJ TRANSIT trains serve the area. There is a $100 gas card offer for new carpools.

NJDOT's original design called for taking two of five lanes for an eight-mile stretch over 18 months. In addition, the original paving methods would have provided only 10 years of useful life.

NJDOT reconfigured its design to incorporate innovative components that shorten construction, reduce costs and alleviate the impact on motorists include:
maintaining four lanes of traffic in each direction
compressing construction on express lanes to five months, instead of 18
doubling the useful life of the pavement to 20 years
saving taxpayers $11 million.
This Hyperbuild project will make significant safety and operational improvements resulting in a safer and smoother roadway. The Hyperbuild technique uses innovative methods and materials that lead to time and cost savings. The paving method and materials used in this project prevent the formation of longitudinal cracks between lanes that occur when each lane is paved individually.