Overview
The construction on this project has now been completed.
December 2008 - March 2010
In an effort to support future redevelopment in the city of Camden, the
New Jersey Department of Transportation (NJDOT) began a $10.5 million roadway reconstruction project of the Central Gateway area. The proposed project includes enhancements to traffic flow and safety within the Central Gateway area for both motorists and pedestrians. NJDOT is planning roadway improvements in the area surrounded by I-676 on the west, Federal Street to the north, Cooper River to the east and Pine Street to the south. Changes include converting one-way streets to two-way streets, eliminating confusing loop ramps and installing traffic signals. Access to and from major roadways, such as I-676 and Route 30, will be improved, and traffic measures will be implemented to enhance pedestrian safety.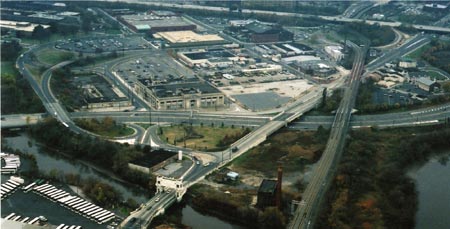 Camden Central Gateway project area in Camden County