Bergen Arches Study
Overview


This web site has been archived and is no longer being updated.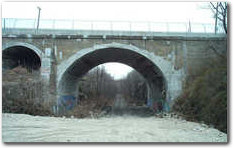 The New Jersey Department of Transportation would like to welcome you to the official site for the Bergen Arches Study. Your input is key to the success of the study. Please take a few moments to read about this project and fill out our on-line user survey. We encourage you to visit the site periodically for project updates and project meeting notices.

The Bergen Arches right-of-way is an abandoned railroad corridor just less than a mile long that cuts through the Palisades in highly developed Jersey City, New Jersey. Trains last used it over 30 years ago. The Bergen Arches runs parallel to Rt. 139 between J.F. Kennedy Boulevard near Tonnelle Avenue to the west, and Palisades Avenue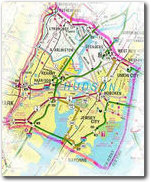 on the east. The Bergen Arches lie in an area that is rich inmulti-modal transportation facilities, including Route 1&9, Route 139, I-78, theNewJersey Turnpike, the Holland Tunnel, the PATH subway system, the Hudson Bergen Light Rail system, NJ Transit commuter rail lines, and various freight rail lines and yards.

The purpose of the Bergen Arches Study is to determine the best use or uses for this valuable right-of-way. This "best use" must serve the area's mobility needs, be practical from a construction and financial standpoint, be environmentally acceptable, and be supported by the community.