Delaware River Basin Commission
---
Delaware • New Jersey • Pennsylvania
---
New York • United States of America
---
Pollutant Minimization Plans (PMPs)
Introduction
In addition to checking water, sediment and fish for PCBs, DRBC requires Pollution Minimization Plans (PMPs) to reduce or eliminate PCBs where they are known to exist.
The PMP rule, adopted by the Commission in May 2005, establishes a non-numeric approach requiring the track down and reduction of point source and non-point source discharges of PCBs in the Delaware Estuary.
The goal of this program is to work with the regulated community to track down and clean up sources of PCBs in order to meet water quality standards and eliminate fish consumption advisories due to PCBs.
PMPs require biennial PCB sampling and submission of an annual report summarizing PCB loading reduction efforts undertaken by the discharger.
Recent reports show that the PMPs required by DRBC are working. The top ten dischargers responsible for 90% of the point-source PCB loading have reduced their contributions 76% from 2005-2016.
This improvement hopefully will be reflected as reduced amounts of PCBs found in fish tissue in future years.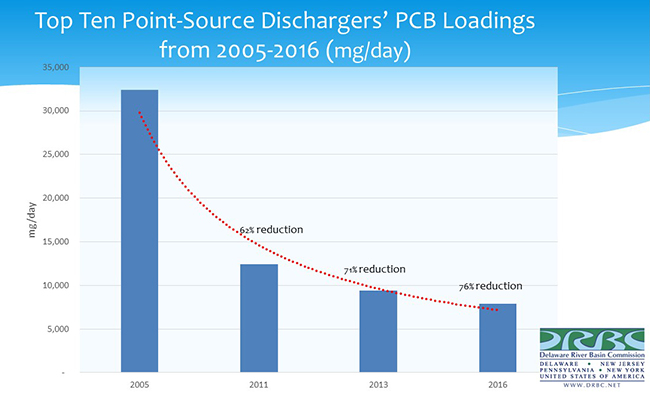 PMP Rule Establishment & Related Information
The DRBC on May 18, 2005 unanimously adopted a rule to establish pollutant minimization plan (PMP) requirements for point (end-of-pipe) and non-point (runoff) discharges of polychlorinated biphenyls (PCBs) in the Delaware Estuary.
Recommended Outline for PMPs for PCBs in the Delaware Estuary (Jan. 2006):
Resolution:
Draft Guidance for PMP Annual Reports for PCBs in the Delaware Estuary (Jan. 2007):
Following the approval and initiation of a PMP, Annual Reports are generally due 60 days after the end of the reporting period unless otherwise stated in a particular docket or permit. For example, an Annual Report for a calendar year reporting period would be due by the end of February. If data were obtained late in the reporting period, an extra 30 days may be granted to complete the report.
Resources for Completing and Implementing PMPs
Documents posted below include presentations, papers and other materials from a variety of sources that are intended to serve as references for the Basin community. The Commission makes no representation that the information provided in materials generated by other parties is accurate, complete or consistent with applicable legal requirements. The Commission expressly disclaims any responsibility for use or reliance on such materials. Commercial use of the materials posted here for any purpose by any person is strictly prohibited.
New York Academy of Sciences (NYAS):
Strategic Diagnostics:
Enzyme Linked Immunosorbent Assay (ELISA):
PMP Workshop Archives
October 2012
This workshop discussed the progress achieved to date through PMP implementation, industrial and municipal experiences and effective PMP approaches.
Presentations Given:
January 2007
This workshop discussed the PMP Annual Report process with impacted dischargers and regulatory agencies.
Presentations Given:
July 2005
This workshop explained the newly-adopted PMP rule to impacted dischargers.
Presentations Given:
Commission Member Links:
Delaware
|
New Jersey
|
Pennsylvania
|
New York
|
United States
Copyright © Delaware River Basin Commission,
P.O. Box 7360, West Trenton, NJ 08628-0360
Phone (609)883-9500; Fax (609)883-9522
Thanks to NJ for hosting the DRBC website
Last Modified: 02/01/2023