Overview
Construction is now completed.
Rehabilitation of the Route 35 Bridge over the Manasquan River and Intracoastal Waterway that links Brielle in Monmouth County and Point Pleasant Beach in Ocean County began in September 2006 and will be completed by Spring 2009.
Route 35 is an urban arterial route that serves the regional and local transportation needs of more than 30,000 vehicles per day. It is one of the primary thoroughfares in the region and provides access to the Jersey Shore.
The project extends from Broadway in Point Pleasant Beach north to Ashley Avenue in Brielle. Agate Construction Company, Inc. of Ocean View, NJ is the contractor.
This $33 million project also includes improvements to motorist, pedestrian, bicyclist and boating safety.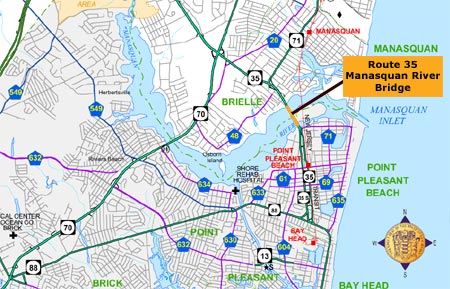 (click image to enlarge)