Project Location
The image below is a link to an enlarged file prepared in Portable Document Format (PDF). You will need Adobe Acrobat Reader to view this file, which is available free from the state Adobe Access page.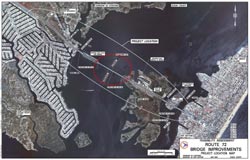 Project Location (pdf 2.5m)
This map depicts the project limits (within red circle) and the project area. Stafford Township is on the left of the bridge and Ship Bottom Borough is on the right. The Route 72 Manahawkin Bridge is in Ocean County, New Jersey.