Overview
The construction on this project has been completed.
The New Jersey Department of Transportation (NJDOT) has launched a $250 million project to replace the deteriorated Route 1&9T viaduct over St. Paul's Avenue. This project will also provide connections to the roadways that form a vital link to this region's transportation network.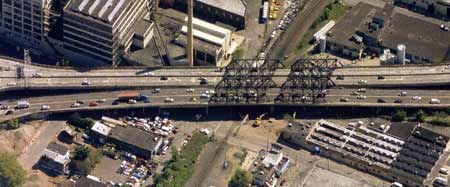 With connections to New York City and North Jersey, this Jersey City area is a key location for industrial/commercial warehouse operations for the ports of New York and New Jersey. The Charlotte Avenue/Route 1&9T/Route 7 intersection, the Tonnele Circle and the Route 1&9T(25) Viaduct over St. Paul's Avenue are three key facilities at the center of this important regional transportation network that moves people and goods in this metropolitan area.
This purpose of this project is to:
replace the Routes 1&9 Viaduct over St. Paul's with a new structure on a new alignment north of the present structure.
build new approach roads to safely connect to Route 1&9T, Route 7, Pulaski Skyway, Route 139, Route 1&9 north of Tonnele Circle and local streets in Jersey City.
provide a more continuous flow of traffic from Route 1&9 southbound onto the Pulaski Skyway.
The project is estimated to last four years. NJDOT will stage new traffic patterns during construction. Motorists are advised to be aware of variable message signs (VMS) for changes to traffic patterns, real time speed and travel times throughout the project on NJcommuter Web site, as well as Trips123.