Cultural Resources

In 1998 the Federal Highway Administration and the New Jersey Department of Transportation (NJDOT) initiated an investigation to identify cultural resources within Jersey City that will be affected by the planned replacement of the Routes 1&9T St. Paul's Avenue viaduct.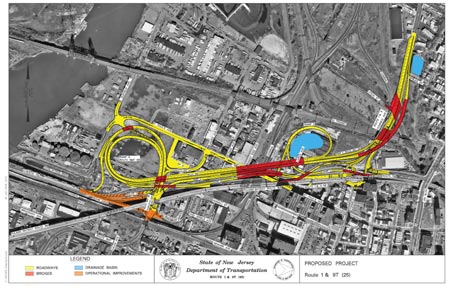 "Cultural resources" are historically or architecturally important structures such as buildings, bridges, cemeteries, or monuments; landscapes; or archaeological sites. Federal laws protect these places and if they will be affected by a federally-funded project, measures must be taken to "mitigate," or lessen, the damage. If they cannot be avoided or preserved in place, then they are fully recorded, archaeological excavation is performed to recover data, and new structures are designed in ways sensitive to the historic context.

One of the laws that cover this project is the National Historic Preservation Act, first passed in 1966. In compliance with Section 106 of the Act, important historic resources are being preserved, studied and recorded, or in other ways taken into account, in the design of the new roadways.

The Federal Highway Administration (FHWA) is funding the Routes 1&9T/St. Paul's Avenue Viaduct project and its cultural resources investigations.

The NJDOT oversees the contracted investigations. The Project Manager is Steven Hochman and Ihor Sypko is supervising the archaeological and other cultural resources research for the Department.

The prime consultant for design of the Routes 1&9T improvements is Hardesty and Hanover of Hoboken, NJ.

The RBA Group of Morristown, NJ is the consulting firm hired to conduct the cultural resources investigations.

There are files that are in Portable Document Format (PDF). You will need Adobe Acrobat Reader to view these files, which is available at our state Adobe Access page.