Overview
The construction on this project has been completed.
Almost 10 years ago, the New Jersey Department of Transportation (NJDOT) initiated the design for improvements along the Route 35 corridor to address severe pavement distress and corridor-wide flooding related to drainage infrastructure, site characteristics and tidal influences. During the recent Superstorm Sandy, Route 35 was severely damaged, creating a shift in the project focus to a full roadway reconstruction. As a coastal emergency evacuation route, serving the barrier peninsula between Barnegat Bay and the Atlantic Ocean, it is vital for Route 35 to be reconstructed to a high design standard. The state has received federal highway funds for Route 35 to make it a stronger, more resilient road to better withstand future storms.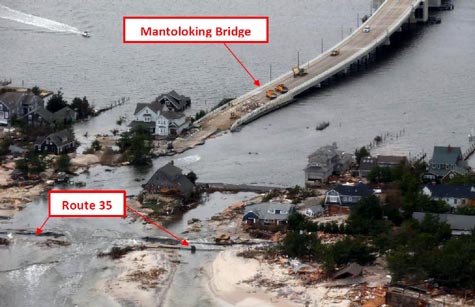 This aerial view shows the destruction along
Route 35 at its intersection with the Mantoloking Bridge.
Superstorm Sandy caused multiple roadway breaches.
The Route 35 improvements include:
Full depth pavement replacement for a 50-year design life
Corridor-wide drainage improvements
Water quality chambers at all drainage outfalls
Installation of check valves at all outfall pipes to prevent tidal or storm surge backflow into the drainage system
In recognition of the demands placed on the highway during the busy summer season, and the Department's Complete Streets policy, this project provides the opportunity to implement pedestrian improvements. Complete Streets features, such as sidewalks, enhanced crosswalks and Americans With Disabilities Act-compliant (ADA) ramps, will be built during roadway construction activities where there is sufficient NJDOT right of way. Highway shoulders will continue to accommodate vehicle parking and bicycles. Details of the bicycle accommodations are being coordinated with the individual municipalities.

The Route 35 reconstruction will extend for 12.5 miles, from Route 35 Milepost (MP) 0.0 to MP 12.5. The MP 0.0 southern terminus of the project is located at the entrance to Island Beach State Park in Berkeley Township. The project extends northward along Route 35 through Berkeley Township, Seaside Park Borough, Seaside Heights Borough, Toms River Township, Lavallette Borough, Brick Township, Mantoloking Borough and Bay Head Borough, to the MP 12.5 northern terminus at the border of Point Pleasant Beach Borough. The entire project is located in Ocean County, New Jersey.

Resident and business owners are currently restoring and reconstructing properties throughout the Route 35 project limits. To balance the needs
of home and business owners and Route 35 reconstruction, the NJDOT has established an aggressive construction schedule to expedite the roadway improvements and minimize inconvenience to the shore's residents, businesses and visitors, especially during the June to September peak summer season. Three construction contracts will be advanced:

Contract 1:
MP 9.0 to MP 12.5
Began July 2013
Mantoloking and Bay Head



Contract 2:
MP 4.0 to MP 9.0
Began August 2013
Lavallette, Toms River and Brick



Contract 3:
MP 0.0 to 4.0
Began August 2013
Berkeley, Seaside Park, Seaside Heights and Toms River


Route 35 Reconstruction Project area map
(pdf 1.9m)
Advance utility construction started in May 2013 in the stretch of Route 35 from the border of Point Pleasant Beach to Mantoloking (MP 9.0 to MP 12.5), and drainage work started in July 2013. As of June 2015, construction activity on Route 35 is complete with minor landscape and drainage work expected to be completed this Fall.

Work under the other two contracts, MP 0.0 to 4.0 (Berkeley, Seaside Park, Seaside Heights and Toms River) and MP 4.0 to MP 9.0 (Toms River, Lavallette and Brick) started in August 2013.

As of June 2015, the final pavement for Route 35 between MP 0.0 to 4.0 has been completed with all Route 35 travel lanes open. Temporary lane closures for minor sidewalk and pedestrian facility work and landscaping will be completed this Fall.

As of June 2015, between

MP 4.0 to MP 9.0

, all Route 35 travel lanes are open with shoulder closures being necessary for work zones in select locations. Sidewalks and pedestrian facility work are continuing. All work is expected to be completed this Fall.
NJDOT offers a "real-time" view of traffic conditions either by dialing 511 or visiting the 511NJ Traveler Information web site, a user-friendly way for commuters to learn where incidents, accidents, congestion and construction are affecting traffic

before

they leave their office or home.