CLTF opens
By Sgt. Landis Andrews, 444th Mobile Public Affairs Detachment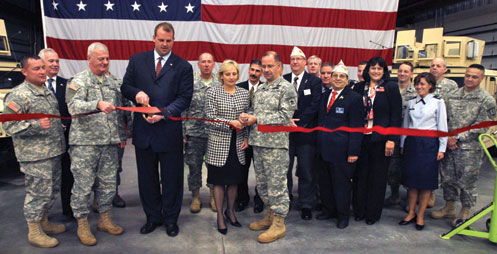 Congressman-Elect Jon Runyan, Lt. Governor Kim Guadagno and Maj. Gen. Glenn K. Rieth, the Adjutant General of New Jersey, cut the ribbon, officially opening the Consolidated Logistics Training Facility, located at Joint Base McGuire-Dix-Lakehurst, N.J., while left to right Chief Warrant Officer 3 Douglas Hartley, Deputy Commissioner for Veterans Affairs Ray Zawacki, Brig. Gen. James J. Grant, Chief of the Joint Staff; State Command Chief Chief Warrant Officer 5 Robert J. Richardson, Mayor of Lakehurst Timothy Borsetti, John Baker, State Adjutant, American Legion; Lt. Col. Michael Lyons, retired Col. Charles Ragucci, Harvey Fox, American Legion; Col. Steven Ferrari, Army Chief of Staff; Mary Bencivenga National Junior Vice Commander, Disabled American Veterans; Lt. Col. Wayne M. McCaughey, Air Chief of Staff; Col. Gina M. Grasso, Joint Base McGuire-Dix-Lakehurst and 87th Air Base Wing Commander; Lt. Col. Daniel T. Mahon and Col. Walter L. Alvarado watch on Dec. 1, 2010. Photo by Mark C. Olsen, NJDMAVA/PAO.
---
The inside is big enough to play a professional football game and its maintenance bays are crammed with enough gleaming new equipment to keep the New Jersey National Guard's massive fl eet of vehicles ready to roll in a moment's notice.
But Lt. Gov. Kim Guadagno said the National Guard's $58 million Combined Logistics Training Facility on Joint Base McGuire-Dix-Lakehurst is far more than an impressive new structure that was 12 years in the making.
"This building was built with blood, sweat and tears and the hope that all of America will be safer because of the work that will go on here," Guadagno said on Dec. 1, 2010.
The first phase of the project, which includes 16 maintenance bays and more than 110,000 square feet of work space opened with a ribbon cutting ceremony.
The state-of-the-art building will improve productivity for mechanics across the New Jersey National Guard. The facility will consolidate operations from two smaller, aging facilities. A second phase of construction will add an additional 56,000 square feet of work space. Combined, the projects are one of the largest military construction projects in New Jersey in the last 15 years.
Sgt. Lauano Bell said he couldn't wait to start work at his new duty station.
"I was there when they first started planning this building, and they really had the technicians in mind," Bell said. "Looking at the finished product, they really got it right."
Maj. Gen. Glenn K. Rieth, The Adjutant General said Soldiers like Bell will have no shortage of work.
"Over the past five years, we have received 565 new, state-of-the-art military vehicles," Rieth said. "This building is going to allow us to maintain those vehicles to the highest standard."