AIRMEN PARTICIPATE IN FAM 10
By Master Sgt. Mark C. Olsen, 177th Fighter Wing Public Affairs
Iraq, Kuwait or even Afghanistan – these are names we in the military associate when we talk about the desert.
One that doesn't come as quickly to mind is the Hashemite Kingdom of Jordan, which is where Col. Robert C. Bolton and Master Sgt. Andrew J. Moseley deployed in support of Falcon Air Meet 2010, or FAM 10, from October through November.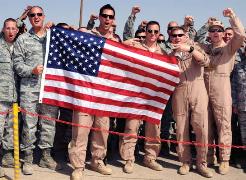 The U.S. Team, which was led by Col. Robert C. Bolton, front row right; poses for a high-spirited group photo. U.S. Air Force photo by Tech. Sgt Wolfram M. Stumpf, 140W/PA.
---
Bolton served as the commander of the U.S. Air Force forces - the first New Jersey wing commander to do so and only the second Air Guard commander in the exercise's history. The unit he commanded was comprised of more than 340 Guard and active duty Airmen, including Moseley who served as a videographer with the Colorado Air National Guard Public Affairs video production team that covered the event.
"FAM 10 provided realistic combat training scenarios for air force pilots and maintainers from Jordan, Pakistan, the United Arab Emirates and the United States of America," said Bolton.
The two-week exercise, which was held at the Royal Jordanian Air Base in Azraq, began on Oct. 19 and brought together the various teams from the region to share doctrine and procedures, strengthen relationships and improve regional security. Jordan is located directly east of Israel, south of Syria and west of Saudi Arabia.
A friendly competition is also the highlight of the exercise that provides unique training experiences. The event previously focused more on the F-16 competition, but has evolved into an exercise, concentrating on tactics and close closeair support operations. The event has been judged by the 140th Wing Colorado Air National Guard for the past five years due to their strong friendship with Jordan and their State Partnership Program.
"The Public Affairs team worked day and night to videotape and photograph the event," said Moseley. "We also produced a video, which captures the essence of the event and serves to foster interest and participation from other countries." The video can be seen on You Tube.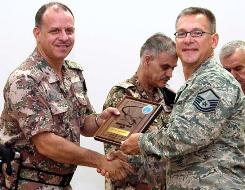 Prince Faisal bin Al Hussein, left, presents Master Sgt. Andrew J. Moseley with a plaque during the closing ceremonies on Nov. 2, 2010. U.S. Air Force photo by Capt. Darin Overstreet, 140W/ PA.
The grand finale included a special forces' hostage rescue demonstration and bombing competition featuring jets from all involved countries and two B-52s from the U.S. Air Force.
FAM 10 culminated with a series of closing ceremonies where each of the team commanders spoke.
"I videotaped the closing ceremonies and listened to Col. Bolton's closing remarks, where he suggested that the Falcon Air Meet be renamed the Brothers for Life Exercise," said Moseley.
"I would also like to echo the (Air Force commander's) remarks," said Prince Faisal bin Al Hussein of Jordan. "This meet is all about relationships. It has been a fantastically successful exercise because it is all about getting together, learning to work together, getting to know one another."