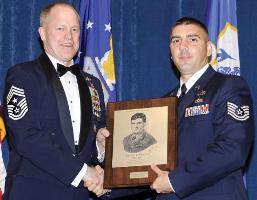 Tech. Sgt. Carmine Giangeruso, right, receives the John L. Levitow Honor Graduate Award for Satellite NCO Academy Class 11-1 from Chief Master Sgt. Christopher E. Muncy, Air National Guard Command Chief Master Sergeant, on Nov. 11, 2010.
---
A 108th Wing Airman took the Air Force's top education award at the Noncommissioned Officer Academy on Nov. 11, 2010.
The highest honor went to Tech. Sgt. Carmine Giangeruso who received the John L. Levitow Honor Graduate Award, which is named after Medal of Honor recipient Airman 1st Class John L. Levitow and is presented to the top professional military education graduate from Air Force Airman Leadership Schools.
New Jersey pulled in three additional awards: Tech. Sgts. Shane A. Clark and John P. Asure of the 108th and Tech. Sgt. John A. Salayda Jr., of the 177th Fighter Wing each claimed a Distinguished Graduate Award, which is presented to the top ten percent students in the class. It is based on objective and performance evaluations, demonstrated leadership and performance as a team player.
Graduation from the NCO Academy, which is located at I.G. Brown Air National Guard Training and Education Center, McGhee Tyson Air National Guard Base, located near Knoxville, Tenn., is required in order to get promoted to master sergeant.
The New Jersey contingent was comprised of 177th Fighter Wing Tech. Sgts. Melissa P. Blackledge, Lauren A. Humphrey, Kenneth D. Johnson, Joann Jones, Suzanne M. Knight, Brian G. McDevitt, John A. Riccio, John A. Salayda Jr., Michael A. Thompson and 108th Wing Tech. Sgts. John Asure, Miguel Badillo, Dennis Barnes, Shane Clark, Keith Czeczuga, Porfirio Diaz, Bryan Fernandez, Eugene Fletcher, Carmine Giangeruso, Jeremy Maupin and Jose Periera.
"To all the graduates, I hope each of you accept the challenge and compete for a seat in the Senior Noncommissioned Officer Academy," said State Command Chief MasMaster Sgt. Michael R. Francis. "You will have the opportunity to interact with senior NCOs from active, guard and reserve at Gunter Annex (Montgomery, Ala)."
The NCO Academy curriculum is approximately 223 hours, and includes 22 hours in the military profession, 38 hours in combat leadership, 56 hours in unit management and 57 in managerial communication. All while working with NCOs with similar experiences, preparing to lead and manage while gaining new friends to call on when facing leadership challenges.