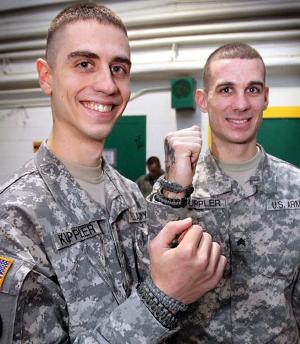 Spc. Eric Kuppler, front, and his brother Sgt. Andrew Kuppler. Photo by Mark C. Olsen, NJDMAVA/PAO.
---
Sgt. Andrew Kuppler began his New Jersey Army National Guard career a step behind his younger brother, Spc. Eric Kuppler.
The younger brother enlisted first and had already begun Advanced Individual Training as an MP before the older brother finished basic training.
But in the years since, the brothers have been side-byside when it mattered most, on deployment into a combat theater. It's already happened once, Iraq 2008 with the 50th Infantry Brigade Combat Team and now, Afghanistan with the 119th Combat Sustainment Support Battalion.
On Jan. 4, the brothers were among the 67 Soldiers from the unit who boarded a plane bound for Joint Base Lewis-McChord, Wash., where the Cherry Hill-based troops will train for 30 days before shipping out.
As the Kuppler brothers made the final checks of their gear before boarding, they refl ected about what it means to be able to serve together.
"Deployments are lot easier with him along," Andrew Kuppler, 27, said, nodding toward his brother.
"And a lot easier on our families, they worry less because they know we're taking care of each other," Eric Kuppler said.
Both were wearing a second set of Survival Bracelets made by their family.
The brothers wore their fi rst bracelets on their year in Iraq as members of the 328th Military Police Company. Although they worked opposite shifts in detainee operations, they saw each other every shift change and spent most of the few hours both had off together.
This time, it's unclear where exactly in Afghanistan they'll end up, although they expect they may remain in close proximity because they both do the same job.
"We'll have each others' backs," Andrew Kuppler said.