Soldiers go through Reconstitution
Story and photo by Sgt. Wayne Woolley, Department of Military and Veterans Affairs Public Affairs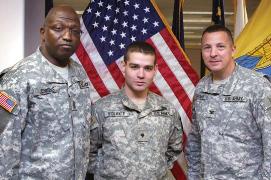 Spc. Jesse Violante with State Command Sgt. Major Jerome Jenkins, left, and New Jersey Army National Guard Chief of Staff, Col. Steven Ferrari during the reconstitution for more than two dozen Soldiers returning from deployments in Afghanistan, Iraq and Djibouti. Violante served as an infantryman in Afghanistan.
---
It was a small group of Soldiers, but they illustrated the vast reach of the New Jersey Army National Guard.

On Wednesday, nearly two dozen Soldiers returning from deployments to Afghanistan, Iraq and Djibouti underwent a reconstitution at Joint Forces Headquarters at Joint Base McGuire-Dix-Lakehurst.

Although the Soldiers normally serve with units across the New Jersey National Guard, they served overseas with a variety of units. The largest group, 50 Soldiers, spent their yearlong deployment in Afghanistan with the 86th Infantry Brigade Combat Team of the Vermont Army National Guard. Others had returned from a year as an eight-man detachment that flew fixed wing aircraft missions for U.S. AFRICOM in across eastern Africa. The remaining Soldiers were among five New Jerseyans who served in Iraq with The Louisiana Army National Guard's 256th Brigade Combat Team.

Even the group that served in Afghanistan found itself spread across the vast country, with its Soldiers running missions ranging from humanitarian assistance, to hunting Taliban fighters to training the Afghan army and police forces.

"All of us were out there doing something different," said Col. Dennis Devery, who spent the tour overseeing the training of Afghan army and police forces from the NATO Headquarters in Kabul. Devery said the forces are making substantial progress, but that the country as a whole is still plagued by a lack of infrastructure and abject poverty.

Spc. Jesse Violante, 23, spent his time serving with an infantry line company in the restive region near the border with Pakistan. He and the other three New Jersey Soldiers with that company were award- Soldiers go through Reconstitution Story and photo by Sgt. Wayne Woolley, Department of Military and Veterans Affairs Public Affairs ed Combat Infantry Badges on the tour.

"We did the full spectrum of combat operations and we had our fair share of action," Violante said. "I think the Afghan people are coming around. They know what we're trying to do for them."

The pilots who went to Djibouti ended up flying missions to more than a half dozen eastern African countries. Most flights involved transport of highranking U.S. AFRICOM staff.

"We got a chance to see a lot of the continent," said Chief Warrant Officer 3 Brett Berlinger.

The pilots also supported missions to vaccinate livestock and to help the local people develop sanitary water wells.

We are the champions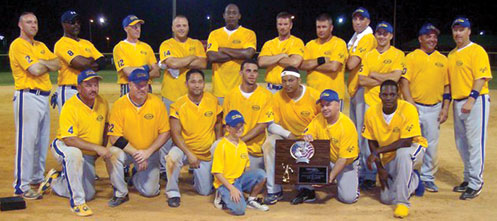 108th Wing Men's Softball Team claimed first place at the 45th Annual Air National Guard Softball Tournament held Aug. 12-14, 2010 at Panama Beach City, Fla. The 108th Wing Women's Team placed second. Front row, left to right: (Manager) Senior Master Sgt. Mike Balas, Pat Marshall, Tech. Sgt. Sean Nitahara, Batboy Jared Marshall, Ken Donelson, Senior Airman Elay Oakman and Staff Sgts. Rob Jentsch and Tyress Presley. Back row: Tech. Sgt. Dave Fortin, Master Sgt. Greg Stevens, Maj. John Swift, Senior Airman Jason Balas, Staff Sgts. Gary Sills, George Wutsch and Steve Leddy, Senior Airman Nate Schaefer, Bobby Schreiner Jr., and Tech. Sgts. Jim Maribo and Bob Schreiner Sr. The team also won the McGuire Softball Championship in 2010 for the fourteenth time out of the last 17 years. Photo by Allison Maribo.