Labor Market Views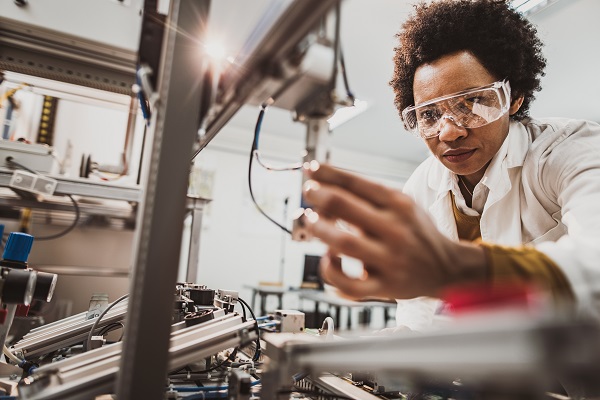 NJ Labor Market Views offers valuable economic intelligence to help you keep New Jersey's labor market situation in focus. This series of articles covers a wide range of labor market issues and demographic insights, such as New Jersey through the lens of the Census; the latest demographic pictures; state, regional and local employment and unemployment situations; and snapshots of the state's key industries. NJ Labor Market Views will be produced periodically as news, data, and analysis become available.
Issue 2018-01 (5/02/2018): Millennials in the Workforce: Millennials make up a large segment of the workforce and are said to be changing the shape of the workplace, as they are the generation that grew up with the Internet and smart devices. Issue 2018-01 of NJ Labor Market Views looks at New Jersey's millennial workers.
Issue # 31 (9/16/2014): NJ's Occupational Mix is Diverse and Earns Above Average Wages: Getting a read on New Jersey's workforce and earnings situation is not as easy as taking a simple snapshot of the economy. Instead, it requires tools like the Occupational Employment Statistics (OES) Survey of employers. Like all states, New Jersey, in conjunction with the U.S. Bureau of Labor Statistics (BLS), conducts the OES survey of employers. The survey asks a sample of employers of varying sizes and from all industry sectors about the number of employees in their workforce, the occupations of these workers and the compensation or wages these workers receive. Issue #31 of NJ Labor Market Views analyzes the results of the most recent survey for New Jersey.
Issue # 30 (8/14/2014): NJ Financial Services Employment Remains Stable Despite Uncertainty: Although New Jersey's financial services sector represents a relatively small segment of New Jersey's total private sector employment, the cluster represents a significant percentage of the state's Real Gross State Product. While several large mergers and layoffs have raised questions about the industry's long-term outlook, other less publicized mergers and moves into the state have kept employment levels relatively stable in the sector. This issue of NJ Labor Market Views looks at the employment situation for the state's financial services cluster highlighting how various developments and evolving technologies are shaping the industry.
Issue # 29 (7/21/2014): 2013 Population Estimates for New Jersey: The nation's most densely populous state is moving toward a record 9 million New Jerseyans. As of July 1, 2013, New Jersey's population was estimated to be 8,899,339, an increase of 107,430 from the latest decennial census. Issue 29 of NJ Labor Market Views looks at New Jersey's population trends at the state level as well as population growth in our counties and municipalities.
Issue # 28 (06/17/2014): Commuter-Adjusted Daytime Population Estimates for NJ: The decennial Census counts people where they live. However, many people travel during the day for various purposes including work, education, healthcare, recreation, etc., and where they spend their daytime hours could be in another town from where they live. Therefore, the daytime population could be very different from the resident population in any geographic area. This issue of NJ Labor Market Views provides insight on New Jersey's daytime population estimates, an important indicator of a locality's economic and social activities.
Issue # 27 (05/29/2014): NJ Women Stronger in Education, Entrepreneurship & Employment: How are women changing the face of New Jersey's labor force? In issue 27 of NJ Labor Market Views, the data show that New Jersey women are slowly making their presence felt in the labor force with higher levels of educational attainment, through greater business ownership and in increasingly working in some occupations that traditionally been held mostly by men.
Issue # 26 (09/03/2013): Labor Force Participation in New Jersey: It is difficult to know if the state or national labor force is large enough to meet the demands of today's global marketplace by looking at the number of adults in the working age population (age 16 and above). What truly matters is knowing what percentage of individuals within that large group are actually available for work. Issue 26 of NJ Labor Market Views analyzes labor force participation trends in New Jersey.
Issue # 25 (04/08/2013): Commitment to Workplace Safety Pays off for Workers and Employers: Highlights from the 2011 Survey of Occupational Injuries and Illnesses show how the commitment to safety has continued to reduce workplace injuries and illnesses in New Jersey. Through no-cost training programs and no-cost workplace consultations, LWD continues to help employers and workers assure that jobsites are productive and free of safety and health hazards. Issue 25 of NJ Labor Market Views introduces these free services of the Department and how they are helping employers to implement safe work policies and train workers to work smarter and safer.
Issue # 24 (12/06/12): A Pre-Hurricane Sandy Portrait of New Jersey's Hardest Hit Areas: Thirteen months after Hurricane Irene struck New Jersey in August, 2011, Hurricane Sandy brought even greater and more widespread destruction to the Garden State than its predecessor. The infrastructure and economy of much of New Jersey felt the devastating impact of winds and surging waters as the center of Hurricane Sandy swept onshore October 29, 2012, north of Atlantic City. The hurricane resulted in dozens of deaths, knocked out power to more than 2.5 million homes and businesses and, according to preliminary estimates by the Federal Emergency Management Agency (FEMA), the storm damaged or destroyed more than 72,000 homes and businesses in New Jersey.
Issue # 23 (10/12/12): Projections of New Jersey's Population and Labor Force: According to recently released projections data, New Jersey is expected to have 9.2 million residents in 2020, and the state's labor force is anticipated to increase by 5.3 percent. In addition, the population of the Garden State is expected to continue to become more diverse. Issue 23 of New Jersey Labor Market Views looks at the state's population and labor force projections through 2030.
According to the 2010 Census, New Jersey had 8,791,894 residents, or 4,5 percent more residents than a decade ago. Among them, 51.3 percent were women, 17.7 percent were Hispanics, and 8.5 percent were Asians. Since 2000, the proportion of women declined somewhat (from 51.5% in 2000) while the proportions of the elderly (from 13.2%), Hispanic (from 13.3%) and Asian (from 5.8%) persons increased.
Issue # 22 (10/12/12): New Jersey Continues Attracting Financial Services Businesses: Infrastructure, value and talent are all key elements in attracting financial services firms to the state of New Jersey and keeping them here. Issue 22 of New Jersey Labor Market Views gives an overview of the financial services industry and its importance to the state's economy.
The financial services industry is a significant driver of the state's economy contributing almost $37 billion, or roughly 9.0 percent, to the 2011 Gross State Product. Finance and Insurance industry employers in New Jersey paid almost $19.7 billion in total wages in 2011, accounting for 11 percent of the state's total private sector wages.
Issue # 21 (9/6/12) Key Workforce Challenges: Aging Workforce and Looming Retirements: The baby boom generation remains a powerful force casting its shadow over the future. New Jersey's working-age population of nearly 7 million includes approximately 2.2 million people ages 55 and over, according to the 2010 Census. This issue of NJ Labor Market Views discusses how the state's workforce could be impacted as these older workers reach retirement age.
In the next few years, many of the state's older workers will consider retirement as soon as it is financially possible. The number of younger workers appears adequate to replace retiring baby boomers. There are approximately 1.4 million residents between the ages of 45 and 54 with approximately 1.2 million more residents between the ages of 35 and 44.
Issue # 20 (8/28/12): Life Science Remains Strong in the Garden State: New Jersey's biopharmaceutical and life-science industry cluster continues to expand the state's long-established record of science- and knowledge-based advancements even as it continues to add enormous value to the State's economy. The latest available employment data (third quarter of 2011), showed that the 3,129 business establishments of the biopharmaceutical and life-science industry cluster reported an employment level totaling 122,442 jobs. This industry cluster relies on the highly skilled and educated workforce for which New Jersey is noted.
In 2010, the biopharmaceutical and life-science industry cluster accounted for about 3.9 percent of the state's total employment. However, because these jobs are well-paying, the cluster is responsible for 8.1 percent of New Jersey's total payrolls.
Issue # 19 (4/19/12): New Jerseyans and Disabilities: This issue of NJ Labor Market Views provides current estimates of the socioeconomic characteristics of the Garden State's population with disabilities. Data from the 2010 American Community Survey reveals that 845,000 New Jerseyians, or 9.7 percent of residents statewide, report having some type of disability.
In 2010, New Jersey 9.7 percent of the state's residents reported having some sort of disability, the second lowest percentage among the 50 states. Only Utah (8.5%) ranked lower. The state with the highest percentage of disabled persons was West Virginia (18.9%).
Most of New Jersey's disabled persons are women (55%). This is because disability becomes more prevalent as people age and women have a longer life expectancy.
Issue # 18 (2/17/12): New Jersey's Asian Population by Asian Group: 2010: According to figures from the 2010 Census, New Jersey was home to more than 725,000 Asians in 2010. The number of Asian residents more than doubled since 2000 and the group's increase of 250,898 persons was the largest decennial gain on record. In this issue of New Jersey Labor Market Views, get a detailed analysis of New Jersey's Asian population by major Asian group.
Major Asian groups in New Jersey include Asian Indians (292,256), Chinese (134,442), Filipino (110,650), Korean (93,679), Pakistani (26,006), Vietnamese (20,628) and Japanese (13,146).
The overwhelming majority of the state's Asians are immigrants from other countries.
Issue # 17 (1/30/12): New Jersey - Older on Average: Data from the 2010 Census shows that New Jerseyans are living longer. Not only does the Garden State have more older residents (population 65 and older), it also has fewer residents who are age 18 and younger. This issue of NJ Labor Market Views provides an analysis of the state's
population by age group.
The median age in New Jersey in 2010 was 39.0 years.
The age cohort with the greatest percentage growth from 2000 to 2010 was residents age 85 and over. In 2010, more people age 100 and over were alive than in any previous census.
Issue # 16 (12/2/11): As Construction Grows Stronger New Jersey's Economy Will Follow: Although construction makes up a relatively small proportion of New Jersey's private sector employment, a healthy construction industry helps drive broader economic activity. In this issue of NJ Labor Market Views read about the impact of the construction industry on New Jersey's economy.
New Jersey's construction industry directly contributed $12.6 billion in 2005 inflation-adjusted dollars to the nation's 2009 gross domestic product (GDP) representing 2.8 percent of the GDP generated nationally by this industry.
In 2009, jobs in New Jersey's construction industry paid higher average annual wages ($60,588) than the average for the state's private sector as a whole.
Issue # 14 (10/19/11): People From Many Nations Form New Jersey's Hispanic Population: According to figures from the 2010 Census, New Jersey is home to more than 1.5 million Hispanics in 2010. They account for nearly 18 percent of the total population and form one of the Garden State's fastest growing minority groups. In this issue of New Jersey Labor Market Views get a detailed analysis of New Jersey's Hispanic population.
Hispanics are projected to comprise 22.2 percent of the state's total population by 2028.
Since the 1970 Census, New Jersey's Hispanic population has increased by 439 percent.
Issue # 13 (9/22/11): Advanced Manufacturing Creates the Products and Processes of Tomorrow: The term "advanced manufacturing" is often used to describe the products or processes that utilize technological advances to enhance the way we make things or the things that we make. In this issue of NJ Labor Market Views, learn how advanced manufacturing and its ongoing innovation is vital to New Jersey's continued economic success.
In 2009, there were more than 127,000 jobs within industries classified as advanced manufacturing..
More than $11.6 billion in wages were paid in 2009, or roughly 6.8 percent of New Jersey's total wages paid.
Issue # 12 (9/06/11): Annual Average Wage in 2010 Rebounds From First Decline: New Jersey's annual average wage reached a new high in 2010 after seeing its first decline in more than 40 years in 2009.
The 2010 annual average wage in New Jersey rose to $56,385 from $55,173 in 2009, an increase of $1,212 or 2.2 percent.
The highest annual average wage growth during 2010 occurred in the industry sectors of finance and insurance (+7.2%) and management of companies and enterprises (+6.4%).
Issue # 11 (8/11/11): Garden State the Destination for Financial Services Businesses: New Jersey's close proximity to New York City, highly competitive corporate real estate rates and an unmatched talent pool make New Jersey a prime location for financial services firms.
New Jersey has one of the most extensive fiber optic networks in the world to support the financial industry's high-speed communications needs.
The state has a highly educated talent pool - more than 34 percent of New Jersey's workforce has earned a bachelor's degree or higher.
Issue # 10 (7/13/11): New Jersey's Leisure, Hospitality and Retail Cluster: The Shore and More: Many of the businesses within leisure, hospitality and retail trade also directly and indirectly support the state's tourism industry.
Leisure, hospitality and retail trade (LHR) employment totaled 766,410 in 2009, or 24 percent of all private sector workers in the state.
New Jersey LHR employers paid more than $20 billion in wages during 2009, or 11.8 percent of the state total.
Issue # 9 (6/23/11): New Jersey Well Positioned for Transportation, Logistics and Distribution: The real estate ideal of, "location, location, location," aptly describes New Jersey.
New Jersey has 36,000 miles of highways and 500,000 trucks move freight over these roads daily.
Within a day's drive of the Garden State, truckers can reach 40 percent of the US population, or 100 million consumers who purchase $2 trillion in merchandise each year.
Issue # 8 (6/14/11): Growth of County Population From 1790 to 2010: New Jersey has undergone many changes in business, in fashion, and in population since 1790 when the first national census was conducted.
From a total of 184,139 residents in 1790, New Jersey's population grew by more than 4,600 percent to a level of 8,791,894 in 2010.
Between 1824 and 1857, New Jersey's original 13 counties were divided to create eight additional counties.
Issue # 7 (5/16/11): Growing New Jersey Minority Population Reaches Majority in Some Municipalities: Census 2010 data on race and ethnicity showed that New Jersey is a highly diverse state with the nation's fourth largest Asian population and seventh largest Hispanic population.
Populations of two municipalities in Essex County had more than 97 percent minority residents.
Non-Hispanic white residents comprise 90 percent of the population in 137 municipalities.
Issue # 6 (5/11/11): NJ's Changing Biopharm/Life Sciences Industry Reaches Beyond Traditional Pharmaceuticals: The vitality of the biopharmaceutical and life-sciences cluster in New Jersey is fundamental to the state's economic health with its well-paying jobs.
The cluster accounted for $23 billion or nearly 5.0 percent of New Jersey's gross domestic product
The cluster invested nearly $20 billion in research and development, the 3rd most among the 50 states.
Issue # 5 (4/18/11): Most New Jerseyans Call Smaller Municipalities Home: Where we live makes a great deal of difference to us and to our families. Each municipality in the Garden State has its own personality and character and that has an impact on many things from the makeup of the people we call neighbors;
Just over half of us reside in smaller towns with populations between 10,000 and 50,000
Another quarter of Garden State residents live in towns of 50,000 to 100,000 residents
Issue # 4 (4/11/11): New Jersey's Economic Health Depends on Health Care Industry: The overall health, both of New Jersey's economy and its people, is clearly tied to the capabilities of the evolving health care industry.
The health care industry contributed over $32 billion to New Jersey's Gross Domestic Product in 2008 (roughly 7% of all output).
New Jersey employers, across all health care industries, paid more than $21 billion in wages in 2009
Issue # 3 (4/06/11): Signs of the Times? "Help Wanted" and Job Growth: Recent indicators of New Jersey's economic health, taken together appear to point toward a brightening economic picture.
Job openings posted by employers were up in each of the last two months, increasing nearly two percent in February.
Private sector employment increased in six-of-10 supersectors in February adding nearly 7,000 jobs.
Issue # 2 (3/22/11): The Changing Face of New Jersey Is More Diverse Than Ever: Look at the people around you. The diversity you're seeing is a hallmark of the Garden State according to the 2010 Census. New Jersey continues to be one of the most racially and ethnically diverse states. The latest figures showed that in New Jersey between 2000 and 2010:
The increase in the Hispanic population was greater than the total population increase.
The fastest growing racial group was Asian, which increased by 51.1 percent.
Issue # 1 (3/15/11): Population Keeps Growing in the Most Densely Populated State: What's new in New Jersey since 2000? About 4.5 percent more people live in the Garden State and Census data released recently shows that New Jersey:
Total population is nearing 9 million, rising to 8,791,894
Ranked 11th among all states for total population
Remains the most densely populated state with 1,195 persons per square mile
Related topics
Reference material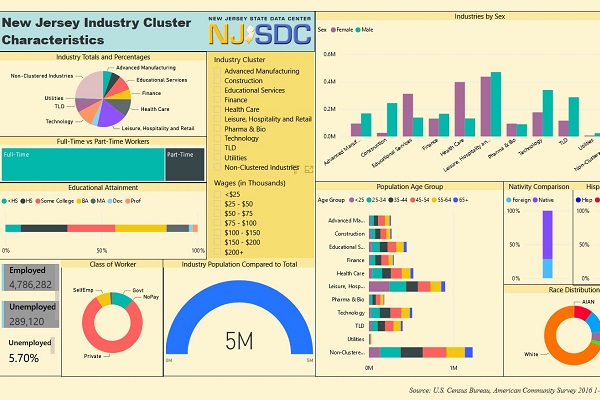 Discover our Power BI Dashboard.
The Power BI Dashboard provides interactive data on New Jersey industry clusters.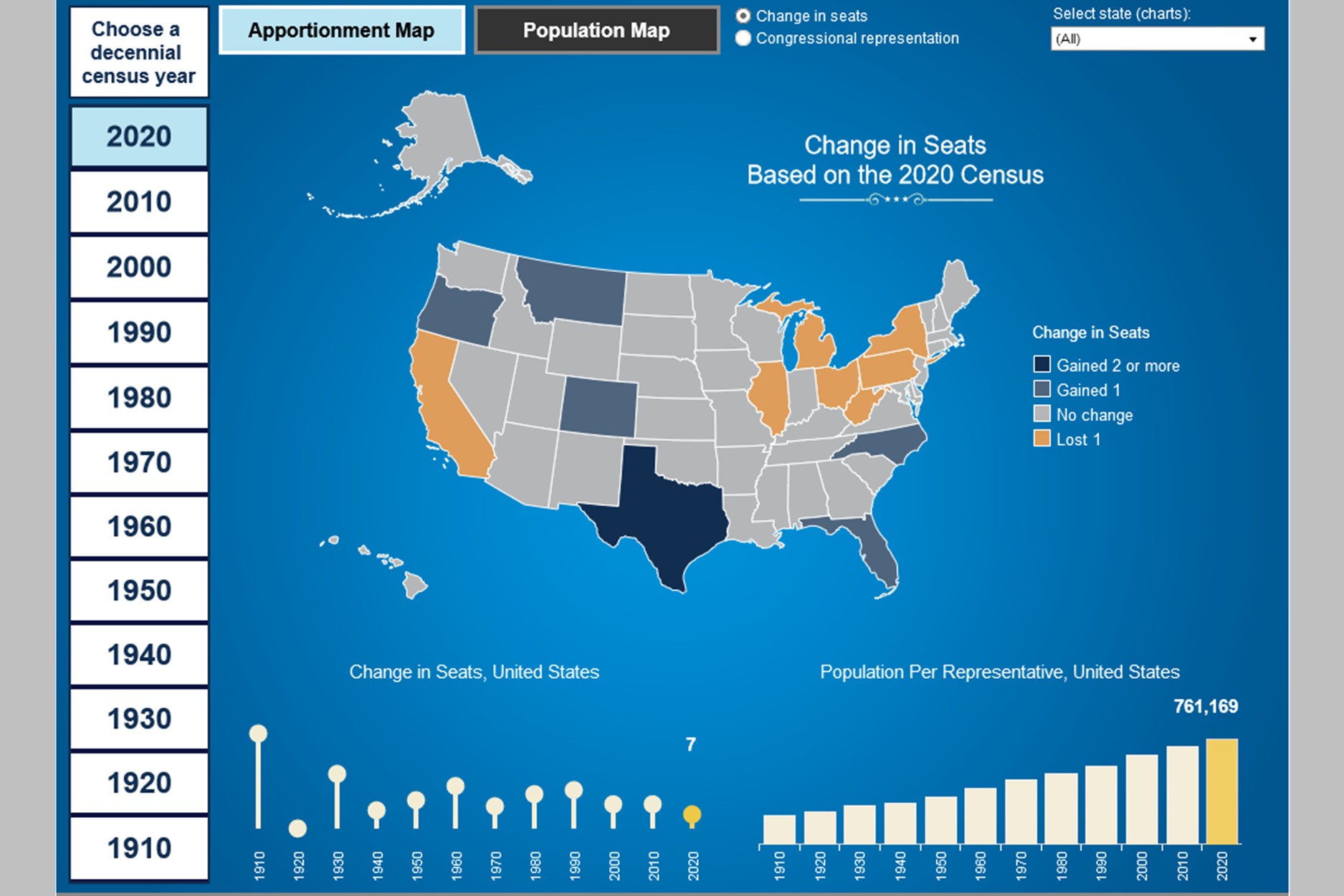 Access the Historical Apportionment and Population Data Map.
Use this interactive tool to view more than 10 decades of apportionment and population data.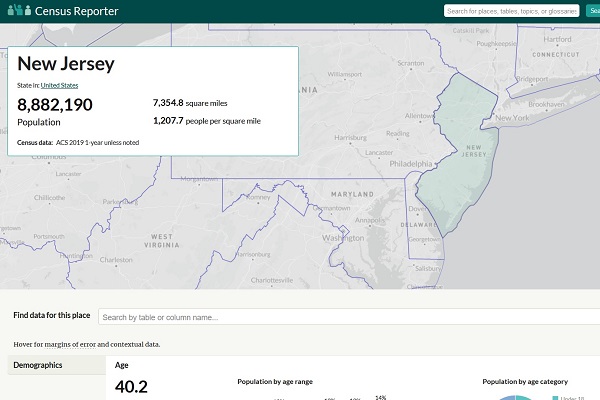 Take advantage of Census Reporter.
Explore the latest American Community Survey (ACS) data with this interactive tool.