The interview is the most important part of the job process. This is your chance to make a lasting impression and show the potential employer what skills you bring to the table. This is the time where you bring your resume and application to life. Interviewing is a skill that you must learn how to do. Below are some tips to help you prepare for your next interview!
When dressing for an interview it's important to choose your attire carefully and show a professional appearance. You can never go wrong with a business suit for a professional interview. Even if you know the company has a relaxed dress code, it's important to remember that you don't have the job yet. Here are a few visuals to help you decide what to wear.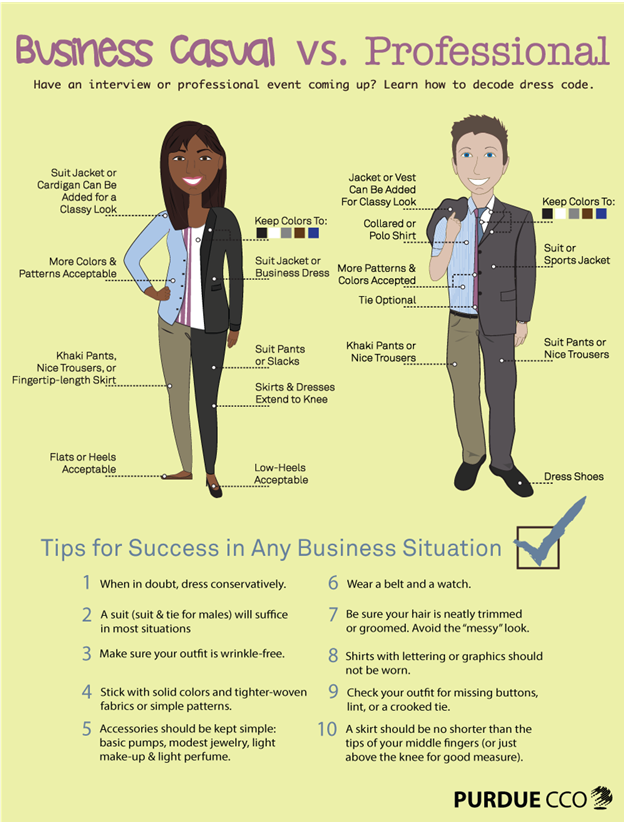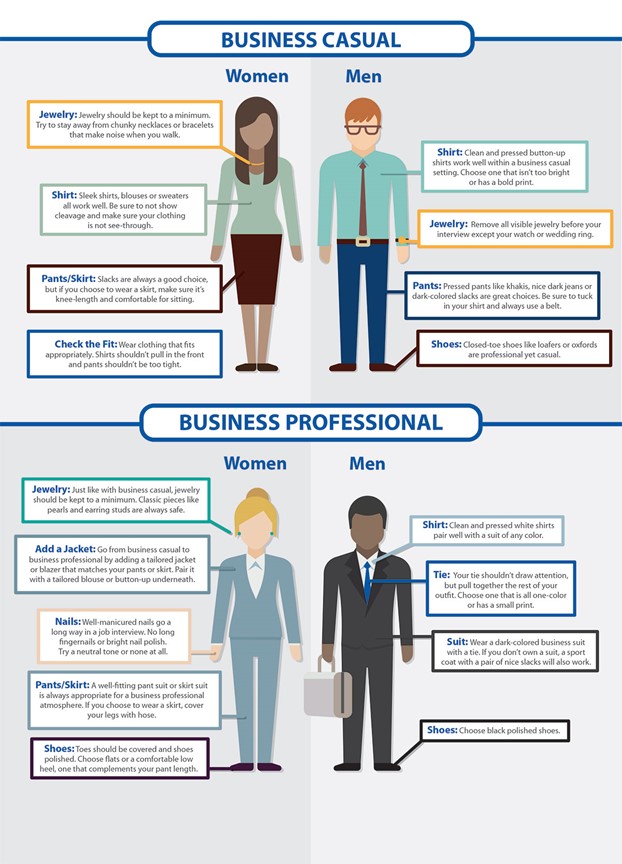 Thoughtful preparation for an interview can set you apart as the "candidate of choice" for a potential employer. As you will likely be competing with several candidates for a single position. Here are 10 Tips to help you in your next interview:
Research the company and your interviewers
Practice your answers to common interview questions
Study the job description and notes required skills, qualities and experience
Answer questions using the STAR method (Situation, Task, Action, Result)
Recruit a friend to practice answering questions
Be Prepared with examples of your work
Plan your interview attire the night before
Prepare smart questions for your interviewers
Bring copies of your resume, a notebook and pen
Tie your answers back to your skills and accomplishments
The Infamous "tell me about yourself" question is where many people go wrong in interviews. Whether it's because you are having trouble advocating for yourself, toot your own horn, go off topic or are just completely stumped over this question. This question will be discussed in the interview whether the employer interviewing you asks or if you bring it up yourself. This video can help find clarity when it comes to answering this question: How to Answer: Tell Me About Yourself. - YouTube
Situation (or Task): Describe the situation that you were in or the task that needed to be accomplished. Be specific and give enough detail so that the interviewer understands. The situation could be from a previous job, a volunteer experience, school, or another relevant environment.
Action you took: Describe the action you took. Be sure to keep the focus on you! Even if you're discussing a group project or effort, talk about what YOU did – not the efforts of the entire team. Don't say what you might do or what you might have done. Say what you DID.
Results you achieved:
What happened?
How did the event end?
What did you accomplish?
What did you learn?
Within a day after your interview, you should send a short thank you note or email to each of the individuals who interviewed you. Thank you, notes/emails give the employer:
A chance to ask for additional information from you and keep you on the employer's mind as a viable candidate for the available position.
Shows the employer you have good follow through.
Shows the employer that you are willing to work and go the extra mile.
It gives you the opportunity to mention something you forgot or wish you had said in the interview.
You might also restate your interest in the position and your confidence in your ability to do the job.
Here are some examples on how to write a short thank you note to the potential employer: